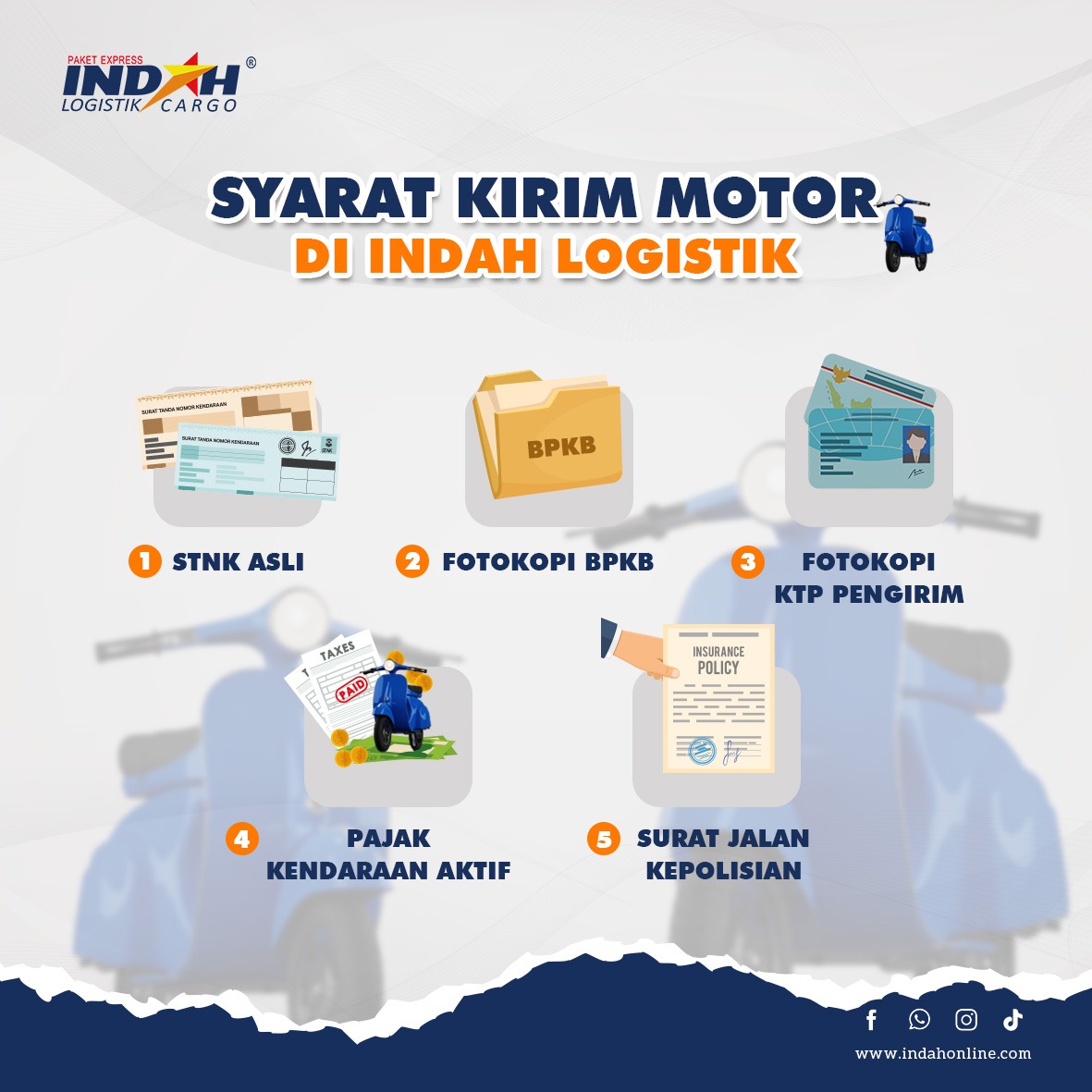 Conditions for Sending Indah Logistics Motorbikes
Indah Logistik, as a company that is experienced in the delivery sector, not only offers goods delivery services, but also has a towing service for fast and reliable motorbike delivery. In order for the delivery process to run smoothly, Sobat Indah should also fulfill the requirements that have been determined as follows:
Active vehicle tax
Original STNK that is still active or still valid
Photocopy of BPKB
Photocopy of sender's KTP
Travel letter from the police
Also make sure that the gas tank and motorbike trunk are empty to avoid leaks or damage during shipping. By fulfilling all these requirements, motorbike delivery with Indah Logistics can be done safely and reliably. Indah Logistik not only offers safe and comfortable motorbike delivery services, but also provides insurance which is included in the shipping costs and also provides free motorbike packing costs.
Indah Logistik, as a company that is experienced in the delivery sector, not only offers goods delivery services, but also has a towing service for fast and reliable motorbike delivery. In order for the delivery process to run smoothly, Sobat Indah should also fulfill the requirements that have been determined as follows:
Active vehicle tax
Original STNK that is still active or still valid
Photocopy of BPKB
Photocopy of sender's KTP
Travel letter from the police
Also make sure that the gas tank and motorbike trunk are empty to avoid leaks or damage during shipping. By fulfilling all these requirements, motorbike delivery with Indah Logistics can be done safely and reliably. Indah Logistik not only offers safe and comfortable motorbike delivery services, but also provides insurance which is included in the shipping costs and also provides free motorbike packing costs.

'){ jQuery("#privacy-pop-up").delay(1).fadeIn(1000); localStorage.setItem('eucookie',' '); } jQuery('#exit-popup').click(function(e) { deleteCookie('cookie_ '); setCookie('cookie_ ', 1, 30); jQuery('#privacy-pop-up').fadeOut(1000); }); let cookie_consent = getCookie("cookie_ "); if(cookie_consent == ""){ jQuery('#privacy-pop-up').removeClass('d-none'); jQuery('#privacy-pop-up').delay(1).fadeIn(1000); }else{ jQuery('#privacy-pop-up').addClass('d-none'); } });